U.S. Descends Toward Political Madness -- and More from Around the World
Bewildering events in the US; Extremists Gains and Losses in Europe and Elsewhere; More unrest in former USSR; Biden and Latin America
IS AMERICA UNSTABLE?
With little over three weeks until Election Day, the madness that seems to have engulfed American politics is only intensifying. It's tempting to blame both sides. But the chaos mostly bursts forth from President Donald Trump, a marketing mastermind and consummate showman, now deploying his arsenal to try to salvage an election that polls, however reliable, suggest he is on track to lose.
All the fireworks, though, haven't come from the White House. Some came from ultra-extremist groups, which are steadily morphing into American terrorist organizations, trying to start something big — a civil war, according to the FBI — before the presidential election.
On Saturday, still infected with the coronavirus, Trump opened the White House to 1,600 MAGA hat-wearing supporters. If you think this was a wild week, just wait for what's coming between now and Nov. 3, and even after.
---
HIGHLIGHTS IN THIS ISSUE
Trump's Dizzying, Dangerous Strategy: US

Right-Wing Extremists Growing Stronger, Suffering Losses: Greece

More Unrest Over Democracy in the Old Soviet Union: Kyrgyzstan

What Biden Would do to US-Latin America Relations: Cuba, Venezuela
---
Trump – Flamboyant, Unstable, or Both?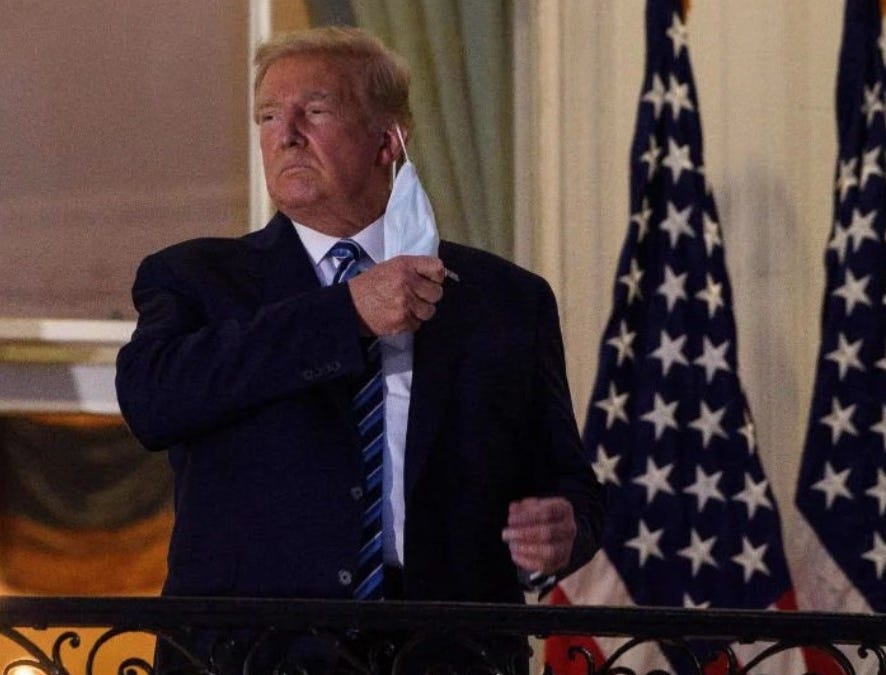 The former reality TV star knows how to make an entrance, but this one was less Hollywood, more Mussolini. It was more Typhoid Mary than Ronald Reagan.
While hospitalized, he had unexpectedly taken a road trip to greet supporters, leaving observers flabbergasted, and later giving Americans life-endangering advice. Among those in disbelief was David Gergen, a scrupulously level-headed former adviser to Republican and Democratic presidents, who said:
"I wake up some days…practically feeling like we're in the grips of a madman…"
On Monday, Trump boarded Marine One, the helicopter that had rushed him to Walter Reed hospital three days earlier, and made a grandiose return to the White House. Still infected with Covid-19, visibly gasping for air, and in the midst of a barely-believable outbreak at America's executive mansion that was expanding so fast even the country's top military brass went into quarantine, Trump defied medical advice, putting others, the country, in peril.
Arriving at the White House not-coincidentally in time for the evening news, Trump ostentatiously removed his facemask (pictured above) reinforcing his advice, "Don't be afraid of Covid. Don't let it dominate your life."
The message will cost lives. The disease has killed more than a million people worldwide, more than 214,000 in the United States, intensifying across the US and Europe, it's on course to kill tens of thousands more in the coming weeks in the U.S. alone.
I called the spectacle grotesque coronavirus theatre in a CNN article. The only thing missing was a tableau of Trump fiddling before a country in flames.
It all helped explain why the nation is in such dire straits.
"If you thought that after coming face to face with his mortality the President would experience a life-changing moment of deep introspection, you were wrong. On the contrary, Trump's illness appears to have solidified his unwavering faith in the catastrophic policies that left not only him and his staff unprotected from a pandemic, but encouraged Americans to take deadly risks and pay with their lives."
The scene promoted one of Trump's extremist followers to openly — approvingly — shout "Mussolini Moment Bitch."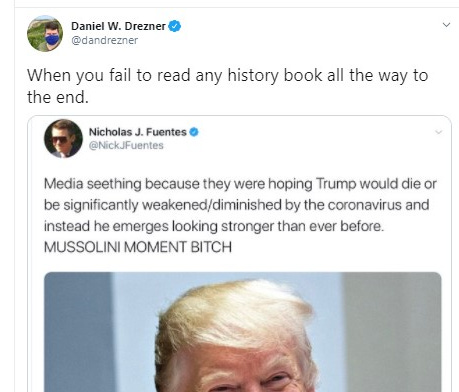 Some of us tried to educate him on how it ended for Mussolini (Warning: Disturbing Image)
Trump's mishandling of the pandemic brought another surprise. The prestigious New England Journal of Medicine, one of the world's top medical publications, broke with 175 years of tradition to issue a lacerating indictment of America's leadership.
You can read it the full article. Here's a taste:
"Our leaders have failed…they have taken a crisis and turned it into a tragedy...When it comes to the response to the largest public health crisis of our time, our current political leaders have demonstrated that they are dangerously incompetent. We should not abet them and enable the deaths of thousands more Americans by allowing them to keep their jobs."
Perhaps under the effect of the steroids administered to him for Covid-19, or maybe because of the stress of the illness and the election, or simply because that's his personality, Trump started acting even more erratically. There were reports that son Don Jr., worried about his father's mental health, wanted to stage an intervention.
The president declared an end to talks with Democrats about an emergency economic package, sending stock markets plunging, only to reverse himself hours later on Twitter. On Fox News, he attacked his cabinet members, called on the Attorney General to indict Democratic candidate Joe Biden, called Kamala Harris, the vice-presidential candidate, a "Monster," and said US troops should all return home from Afghanistan in case of war with China or Russia.
Domestic Terrorism
Instead of issuing a call to national unity after a shocking plot was uncovered, Trump attacked Michigan Gov. Gretchen Whitmer, calling her, "the lockup queen," just as FBI agents and the Michigan District Attorney were announcing they had thwarted an alleged terrorist plan by American extremists, who sought to kidnap her, put her on trial, and overthrow several state governments before Election Day, hoping to start a civil war in the United States.
Whitmer wasted no time pinning the blame partly on Trump's divisive words and coziness with white nationalists.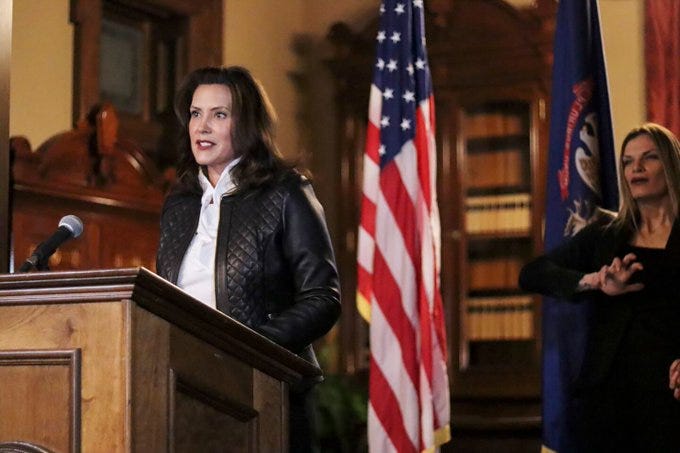 We all remembered Trump's "Liberate Michigan!" tweets from the Spring, and his support for armed extremists who took over the Michigan capitol to protest coronavirus restrictions. Two of the men pictured during an event praised by the president, were arrested by the FBI.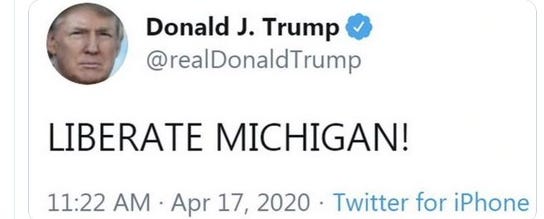 As the week wrapped up, still coughing on television, with more than three dozen people infected at the White House – more cases in one week than many countries – Trump's acquiescent doctor said he was cleared to start campaigning again. CDC guidelines say people who have been hospitalized with severe cases should isolate for up to 20 days.
And then, in one more twist, Democrats in Congress proposed legislation to create a "Commission on Presidential Capacity," which would give Congress a role in removing a president under the 25th amendment. She said it's needed for future crises.
Is America unstable? Current conditions have no precedent in living memory: an erratic president who refuses to affirm he will accept election results or transfer power peacefully, emboldened extremists, a polarized, nervous electorate. And yet, the majority of the country has a firm commitment to democracy. And, if polls can be believed, most yearn for a change of leadership. The outcome is uncertain, there are no guarantees. But I believe the odds favor an eventual return to something resembling democratic stability. A change in the White House, if it comes, will only mark the beginning of a long process of healing and reconciliation.
---
Right-Wing Extremists Around the World in the Spotlight, Under Pressure, In Europe and Beyond: Greece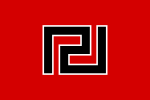 Events in the United States have at long last commanded attention to the threat by extremist groups, but the problem of extremism is hardly unique to one country.
Radicalization, history has shown, can have even more calamitous consequences when it becomes accepted and mainstreamed. That's why what happened this week in Greece is so important. A Greek court ruled against leaders of the neo-Nazi Golden Dawn party —see its Nazi-inspired flag above — finding them guilty of running a criminal organization. The founder of Golden Dawn, Nikos Michaloliakos, along with six former members of the Greek parliament, face long prison sentences, another eleven former parliament members were found guilty of belonging to a criminal organization.
Golden Dawn gained popularity during the depths of Greece's economic crisis, becoming the third largest party in parliament. The court found that it engaged in violent attacks against migrants and leftist activists.
Researchers found that Golden Dawn used social media strategically, further reason for Facebook and other platforms to push harder to limit extremists' activities. This week, Facebook said it would ban QAnon-linked accounts.
Neo-Nazi and other fringe racist, antisemitic, groups have been growing in recent years. In the U.S., the FBI and extremist group watchers say there are radicals on the fringes of the left and the right, but maintain that threats from violent right-wing extremists far outweigh those from the left.
Recent events have highlighted the president's reluctance to criticize the groups, many of his members support him. Alarmingly, Trump told the Proud Boys, "Stand back and stand by" when asked to condemn white supremacists.
Groups like QAnon, whose conspiracy theories are utterly deranged – and very dangerous – are gaining support in certain circles of the Republican party.
We're sure to hear more about QAnon, the Proud Boys, Boogaloo Boys, and other in the coming months. (Let me know if you would like me to write more about these groups, their beliefs, and their agendas.)
---
Another Democratic Convulsion in the Former Soviet Union
If you're a strongman in a former Soviet Republic, say, President of Russia, it has to be uncomfortable to hear about so much pro-democracy restlessness in the region.
The latest convulsion came this week in Kyrgyzstan. The small country, located in Central Asia and formerly part of the USSR, held parliamentary elections a week ago. Huge protests erupted, with demonstrators accusing the government of rigging the election. Perhaps chastened by the experience of Belarus, where massive demonstrations quickly spiraled out of the control of authorities, creating the worst threat to the dictatorship of President Alexander Lukashenko since the collapse of the Soviet Union, authorities in Kirgizstan quickly moved to invalidate the election and call for a new vote.
But protests continued, so President Sooronbai Jeenbekov called in the military and declared a state of emergency.
Russian President Vladimir Putin is surely watching, not enjoying what he sees.
---
Biden and Latin America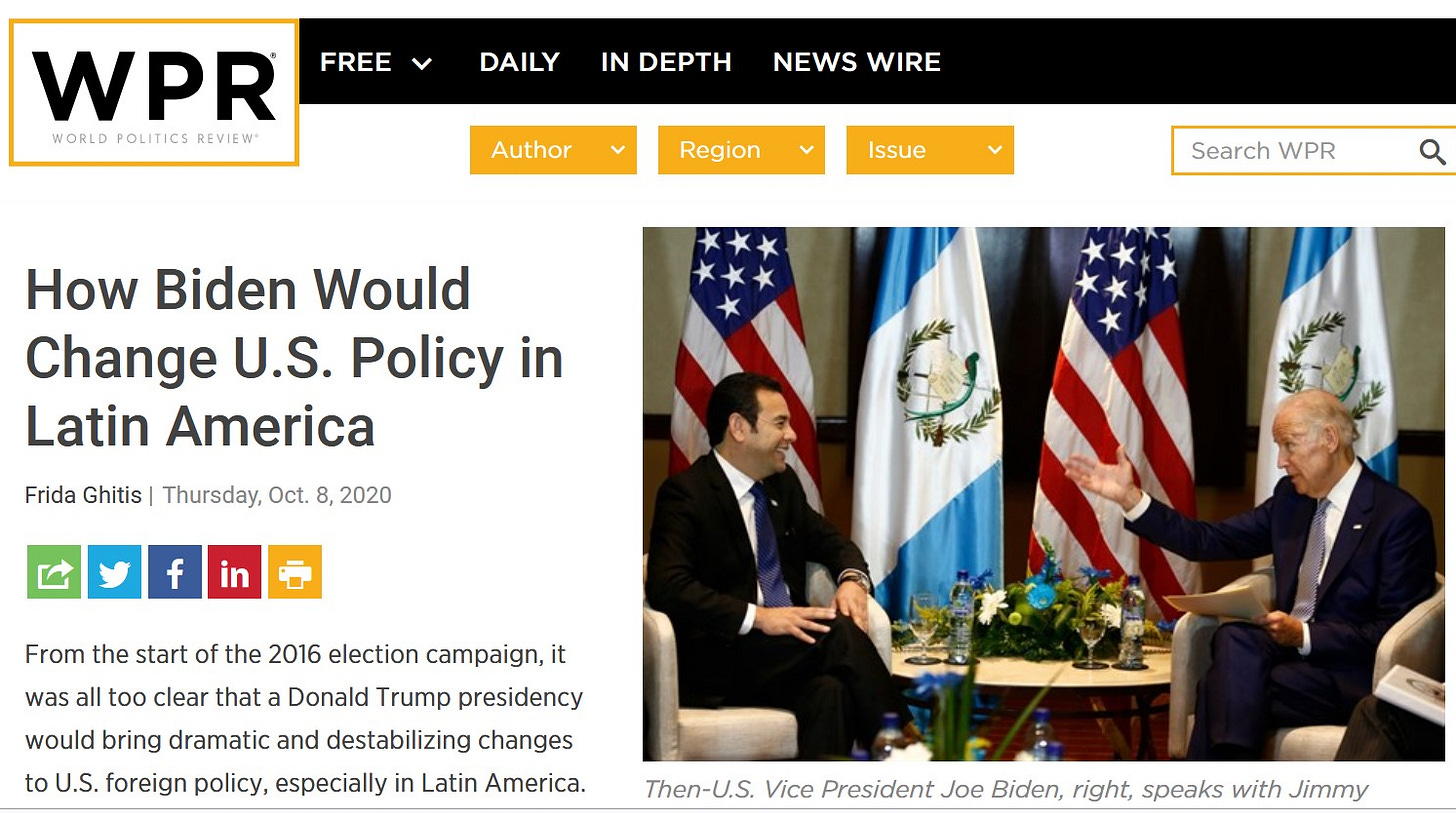 How would Washington's approach to Latin America change under a Biden presidency?
I pondered that question in my most recent column in World Politics Review.
"The Trump administration's policies toward the region have been shaped by two principal currents. The first is the relentless push to slash immigration and refugee flows, mostly from Central America via Mexico. That has been one of the most consistent themes in an otherwise mercurial and often volatile administration. The second is the Cold War-style campaign against what Trump's former national security adviser, John Bolton, branded the "Troika of Tyranny"—Cuba, Venezuela and Nicaragua…It is at least as much a campaign strategy as a policy, since it is driven in large part by electoral considerations—think Florida, where it appears to have paid some dividends for Trump."
Biden proposes a drastic shift, arguing that a more humane and effective way to reduce refugee and migrant flows is to try to improve the conditions that drive people to leave.
On Cuba and Venezuela, Biden says Trump's approach has failed.
---
That's it for now.
Welcome to the many of you who have signed up in large numbers in recent days.
Please send me your feedback. Let me know what you think at FridaInsight@gmail.com
And, if you like INSIGHT, share it with your friends.
See you next week.
Stay healthy; stay informed; stay engaged.
Frida