INSIGHT: Here's What You Missed
From QAnon to Proud Boys and Boogaloo Boys, Trump's words help fringe ideologies recruit and prepare. Russia meddles, China watches, Thailand seethes.
In case you missed this week's issue of INSIGHT, here's a chance to get caught up
---
America's Extremist Problem Will Not End With Trump
When President Donald Trump sat for a town hall meeting on NBC Thursday night, you might have expected that, trailing badly in the polls, he would try a different strategy, perhaps one that would allow him to expand his support beyond the narrow base of fervently devoted followers. That's not what happened.
In another barely believable performance, Trump offered more combative, disjointed defensiveness. But there was one moment that stood out to me. It came when he was asked to condemn the conspiracy theory promoting QAnon. Most Americans may have missed the full meaning of Trump's answer. QAnon followers did not. And they were overjoyed. The group is just one of several right-wing extremist movements thriving in the U.S.
---
HIGHLIGHTS IN THIS ISSUE
QAnon and Trump

Russia Meddling in US and Europe

China's Pandemic Propaganda

Thailand Seething
---
QAnon:  from Trump's America to Europe, Land of Its Ideological Origin
Last week I asked you, readers, if you would like me to write more about the mysterious fringe groups popping up now and then in the news. Trump had startled the public during a presidential debate, when he was asked to condemn the violent far-right Proud Boys and instead seemed to issue instructions. "Proud Boys," he said, "stand back and stand by." And a few days later, the FBI uncovered a plot by domestic extremists to kidnap an American governor.
I was putting the finishing touches on a CNN article about the bizarre, fast-growing conspiracy theorists of QAnon when Trump appeared at a town hall on Thursday.  
NBC's Savannah Guthrie asked:
"…let me ask you about QAnon. It is this theory that Democrats are a satanic pedophile ring and that you are the savior, of that. Now can you just, once and for all, state that that is completely not true…?"
Here's what followed:
Trump:
"I know nothing about QAnon."
Pushed on what was unquestionably a lie, Trump said:
"What I do hear about it is they are very strongly against pedophilia and I agree with that. I mean, I do agree with that. And I agree with it very strongly."
QAnon believers embrace a conspiracy theory so deranged that it can make it difficult to take them seriously.  I explained it at some length in my CNN article. Read it all. But here's a summary:
Fanatically devoted to President Donald Trump, the QAnon faithful believe -- baselessly -- that the world is run by a globalist cabal of Satan-worshipping pedophiles and cannibals controlled by the "deep state," Hillary Clinton, the Dalai Lama, Pope Francis, and Hollywood celebrities including Tom Hanks, Oprah Winfrey and others.

According to QAnon's creed, these malevolent powers traffic and imprison children, sexually abusing them and drinking their blood, which supposedly contains a life-extending substance. In their absurd mythology, which they take literally, Trump is the superhero, here to save the children from the Satanists in a secret war.

Trump's answer on Thursday was received by QAnon believers much like his "Stand back and stand by" was by the Proud Boys, with jubilation.
After watching Trump's town hall, QAnon supporters declared his words "complete confirmation"of their conspiracy theories. On the 4Chan platform, another QAnon follower exulted, "This was the biggest pitch for QANON I've ever seen,"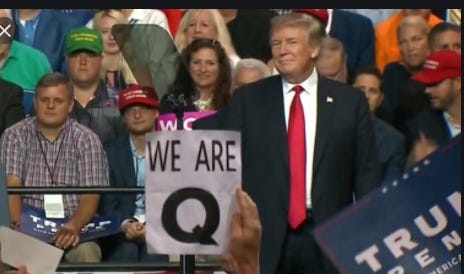 Three years after it emerged on the internet, QAnon is at last drawing alarm. Last year, the FBI quietly sent a bulletin to regional offices identifying the group, along with other far-right organizations, as a "domestic terrorist threat." It noted several acts of violence, which have largely escaped public notice.
Counter-terrorism experts across Europe are also tracking its activities
It's tempting to laugh and dismiss people who believe such outlandish stories, but QAnon is spreading at pandemic pace. Its members are getting elected to Congress.
And their numbers are growing around the world.
The Guardian newspaper identified 4.5 million followers worldwide on social media. An internal Facebook investigation also found millions of affiliated accounts. Facebook waited too long but has banned QAnon.
QAnon's preposterous ideology harks back to medieval antisemitic libels, as I noted.
"…lies about global-dominating, blood-drinking Jews have been the recipe, the fuel, that has made antisemitic fires burn over the centuries; all the way to the raging inferno of the Holocaust. QAnon is a 21st century version of a Nazi cult, according to historians and genocide prevention experts."
Not surprisingly, QAnon is exploding within Germany's far-right, with more than 200,000 followers there. It is growing in Britain, in the Balkans, and in the Netherlands, where authorities have just issued a warning about extreme right-wing violence.
The QAnon mythology says Trump is waging a secret war to liberate the world. But what will happen if Trump loses reelection? The world would presumable still need to be liberated. Some members are already making plans to take matters into their own hands.
We need to remain alert and pressure authorities everywhere to take this emerging threat seriously, before containing it becomes even more difficult.
In future issues, I will talk more about the Proud Boys, the Boogaloo Boys, and other extremist groups energized and expanded in recent years.
---
Russia Meddling in Pandemic Response and Elections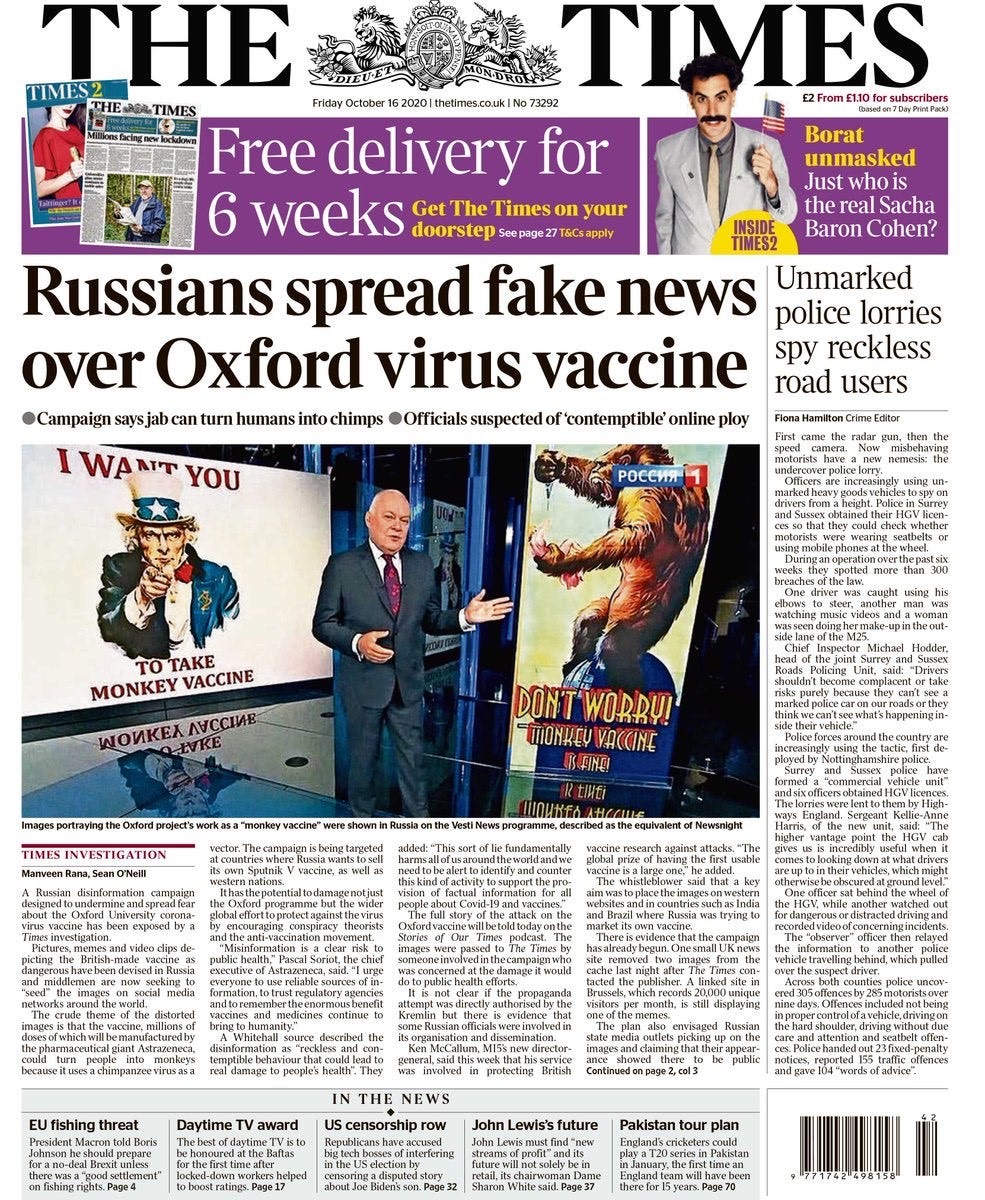 Everyone expected Russian President Vladimir Putin to interfere in the 2020 US elections. But Putin's efforts to sow discord in the West have apparently gone beyond interfering in multiple elections in the U.S. and in Europe.
An investigation by The Times of London concluded that Russia has launched a disinformation campaign to discredit the vaccine program by Oxford University and AstraZeneca, trying to frighten people about the safety of what remains one of the most promising vaccine efforts.
Russia is also actively meddling in the US election, according to US intelligence. In one startling revelation, from the Washington Post, we learned that President Trump was warned by National Security Adviser Robert O'Brien that Putin was using his personal lawyer Rudy Giuliani as a vehicle, advising him that, "Any information Giuliani brought back from Ukraine should be considered contaminated by Russia."  
Trump's reaction: He "shrugged his shoulders."
A New York Post story Trump made waves this week, with Trump and right-wing calling it a "smoking gun" against Biden on Ukraine. The tabloid claimed that a laptop found in a repair shop contained information linking Biden's son Hunter to inappropriate actions conducted in Ukraine by Biden when he was vice president. The story spread rapidly over social media, and gained even more attention after Twitter and Facebook took steps to stop its dissemination.
But now, Federal investigators are looking at the story as a possible foreign intelligence operation. Don't be surprised if this turns out to be another Giuliani, Putin effort to help Trump.
---
China's Pandemic Propaganda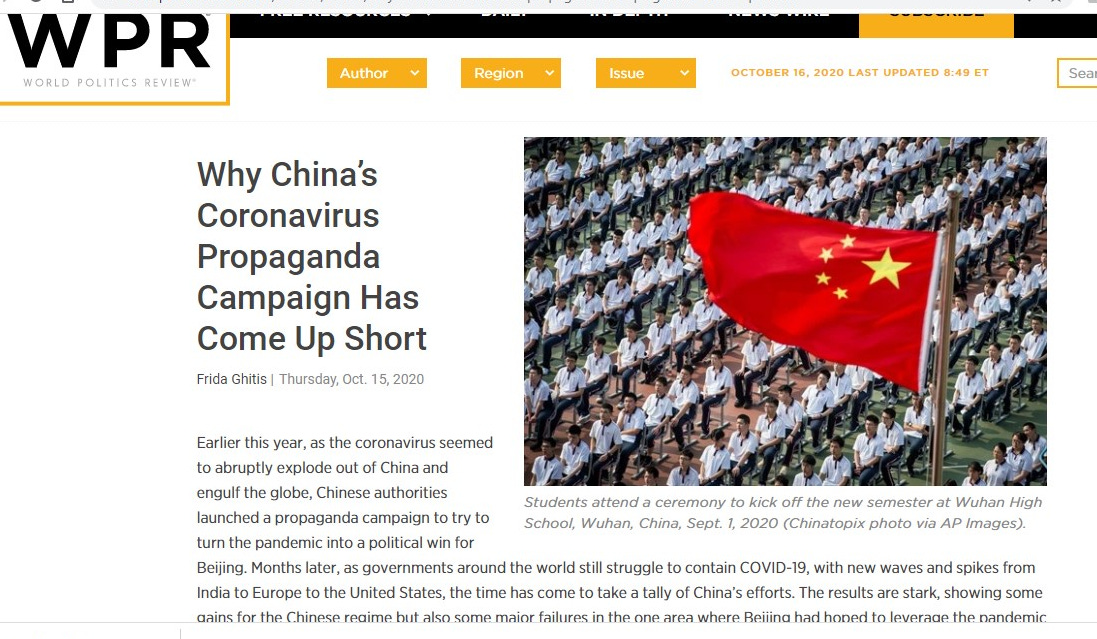 For America's foes and rivals such as Russia and China, the troubles that the West, and particularly the United States, is having containing the pandemic are a source of unending satisfaction.
The virus started in China, and it might not have spread if the notoriously repressive regime had handled with the openness needed to take action. But Beijing eventually used its powers to impose draconian measures that all but stopped the pandemic at home.
That's when Beijing launched its domestic and international propaganda campaign.
I wrote about that back in March. And took a tally of the campaign's effectiveness in my column this week in World Politics.
"China's propaganda efforts have, for the most part, failed. Consider a new survey by the Pew Research Center, which found that views of China have grown increasingly negative in the 14 advanced economies it polled. China's image was already declining before the pandemic, and the trend has only accelerated. In Australia, an astounding 81 percent see China unfavorably, up from 57 percent a year earlier. In Japan, a jaw-dropping 86 percent have negative views, with only 9 percent holding positive ones. Everywhere else, the numbers are similarly dismal—in Sweden, the Netherlands, South Korea, Spain, Canada and, of course, in the United States, where only 26 percent of respondents hold a favorable view of China."
Read the article for more on what exactly Beijing did to leverage the pandemic to promote its image and power at home and abroad
---
Thailand on a Boil
The people of Thailand used to revere their king. From the first time I went there –  I helped open CNN's first bureau there – I was struck by what looked very genuine affection and respect for King Bhumibol Adulyadej. Bhumibol, who was born in the United States while his father was a student at Harvard, became one of the world's longest reigning monarchs.
When he died in 2016, the admiration and respect that used to characterize most Thai's attitudes toward their king started to unravel. The new king, Maha Vajiralongkorn, was already know as a playboy and a lavish spender from his days as crown prince. Things started changing.
In the past, Thailand's political protests tended to tread lightly on issues of monarchy. The country has harsh lèse majesté laws: It is a crime to defame or insult major members of the royal family. The interpretation of insult can be stretched and the punishment severe.
Still, protesters have been taking to the streets of Bangkok and other cities for months demanding democracy and, in recent days, training their sights on the monarchy.
In addition to demanding a new constitution, a dissolution of parliament and the resignation of the prime minister, demonstrators say it's time to reform the monarchy and put a limit on the powers of the controversial king.
Authorities declared a state of emergency this week, but protesters are ignoring it.
Let's keep an eye on how this unfolds.
---
That's it for now.
As always, let me know what you think. Write me at FridaInsight@gmail.com
If you like INSIGHT, share it with your friends and tell them to sign up.
By the way, welcome to all of you receiving it for the first time this week!
See you next time.
Stay healthy; stay informed; stay engaged.
Frida