High Anxiety: Why Everyone's Afraid, Left, Right and Center
US Elections Scare Americans, Worry the World. Latin America's Best Candidate. UK Labor Reckoning. Europe's Crushing Covid-19
Nerves on Edge as Election Day Nears and Pandemic Rages
Why are Americans of all political stripes so anxious – much more than usual – ahead of this election? With just days until the Nov. 3 finish line, the pandemic exploded out of control in the United States, while President Donald Trump stuck to his strategy of downplaying the virus, dismissing experts' advice, and holding giant rallies that studies showed were followed by a surge in infections. That approach boosted Democratic candidate Joe Biden's tactical push to focus on Trump's failure to safeguard Americans, along with a vow to help healing the nation - from the illness, the recession, and the divisions. In fact, it's more than the pandemic that has Americans in a state of high anxiety about this election. What could go wrong; what could go right?
---
Highlights in this Issue
U.S. Election: What Could Possible Go Wrong?

What Does the World Want?

Who's Best for Latin America, Biden or Trump?

Did the U.K's Labor Exorcise it Anti-Semitic Demons

News Snippets: France, Chile, Germany and more.
---
High Election Anxiety: What Could Possibly Go Wrong?
Americans' are gripped with anxiety over what will occur on Election Day — and after.
The polls show Biden holds a commanding lead over Trump. But no one is relaxing, Biden's supporters don't feel reassured; Trump supporters are hardly giving up.
There are two realities in America. Republicans have been told, "Don't believe the polls, Trump is winning," and many think that's true. Democrats, after the 2016 trauma, worry Republicans may be right.
Polling analysts concede Trump could still win, but insist the odds are steep. FiveThirtyEight says Trump has about a one-in-ten chance.
The fear, however, is not just about the polls. It's about what happens if the election is disputed; how the other side would react if the results don't favor them; how the courts might intervene; and how the winner would govern after victory.
After four years of "alternative facts," the country is living in two separate realities. The British Historian Simon Schama wrote Americans see the elections as a
"…bitter fight to the death between two mutually exclusive visions...Each side is convinced that victory of the other spells the end of the republic, so the contest turns into a competition of terminal nightmares."
The nightmares articulated by Republicans are based on fiction; claims that Biden is a secret communist planning to get rid of the police and fill the suburbs with non-white criminals. They warn darkly, "You won't be safe in Joe Biden's America."
Fears of a Trump victory are based on experience, and on the testimony of countless former Trump administration officials who have become his sharpest critics.
Concerns about violence are growing. Walmart announced it has removed all guns and ammunition from its stores, though later reversed course. Those fears stem from Trump's dog whistles and open calls to his armed supporters, including the extremist Proud Boys, to "stand back and stand by." America is awash in guns, and Trump supporters have been brandishing them freely. On the other side, anti-Trump activists have been taking to the streets in mass social justice protests, many of which have spun into violence, looting and arson. The prospect of clashes is deeply unsettling.
Fearing he won't garner enough votes to win, Trump has repeatedly signaled to the Supreme Court that he expects them to side with him. And he has said votes should be tallied on Election Day, while discrediting mail-in ballots.
This week, he put staged an over-the-top White House swearing-in ceremony for his newest nominee Justice Amy Coney Barrett, just after Justice Brett Kavanaugh formally backed Trump's discredited argument on counting mail-in ballots after Election Date. I wrote on CNN:
"There is an ongoing, high-stakes election disinformation campaign, and Trump is trying to enlist the country's highest court. Kavanaugh has given a concerning indication of how he may rule in a case regarding the presidential election. Monday night's ceremony looked partly like an effort to sign up another Court member to the project."
Still, there are reasons for optimism. The polls are significantly different this year. The models have been improved and Biden's margin over Trump is much wider. Some still say hidden Trump voters can give him victory and "people are going to be shocked" but the odds don't just favor Biden, they suggest Biden could win by a historic landslide.
The more decisive the victory, the more likely it is the country will accept the results calmly. If Biden wins in a landslide, that could forestall action by the courts and persuade militant supporters to stay home.
The massive turnout ahead of the election is a positive sign that could give credibility to the election and leave less room for corruption.
The country has changed so much, Democrats are so energized, that even Georgia — as I wrote in this CNN column, is in contention. A Democrat hasn't won Georgia since 1992.
If Biden turns one of the pivotal states to his column, say Florida, if long-time Republicans states such as Georgia, North Carolina – or even Texas, turn Democratic, the outcome could be decisive and the challenge, in the courts or on the streets, could become pointless.
---
What the World Wants
It's not surprising that Americans are riveted to the election, but so is the rest of the world. Americans with relatives abroad have noticed it, and those of you reading outside the U.S. can probably confirm there's an unusually high level of interest.
So, what does the rest of the world, those who cannot vote in this election but will feel the impact in their lives, hope will happen?
Much of the world has lost faith in Trump. A Pew poll asked people in 13 countries, in Europe, Australia South Korea and Japan if they have faith in a series of world leaders, Putin, China's Xi, Germany's Merket, France's Macron, Trump, and others.
Trump ranked lowest of them all. Just 16% said they trust Trump to "do the right thing regarding world affairs." He scored lower than even Putin and Xi. America's image has also slumped as respect for Trump has collapsed in much of the world.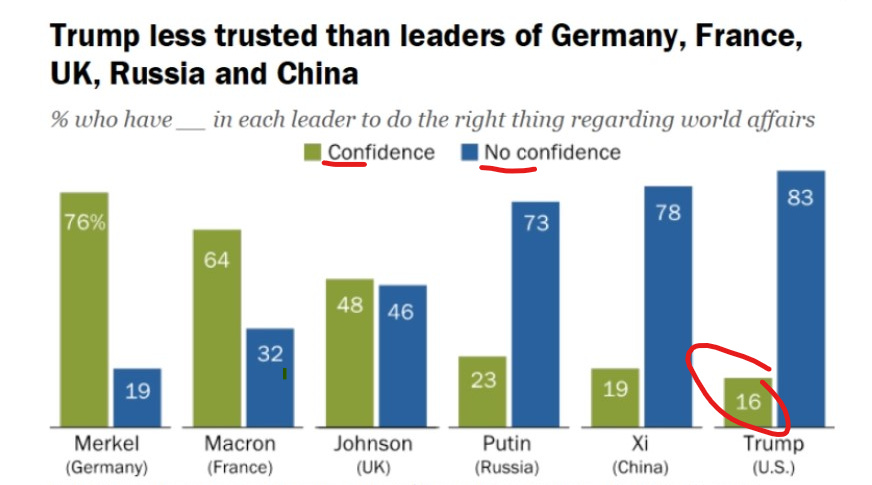 Another poll, this one by YouGov, asked people in seven countries – Britain, Denmark, France, Germany, Italy, Spain and Sweden – who they want to win the election. The majority chose Biden, a landslide over Trump's 15 percent.
A Biden victory, in my view, would help slow and eventually start reversing the global slide toward authoritarianism, as I wrote in the Washington Post. The trend away from democracy started before Trump came to office, but before 2017, the United States generally tried to support efforts to strengthen nascent democracies. Under Trump, those efforts have largely ceased, with a few exceptions.
---
Who's Better for Latin America
Both candidates have campaigned to garner support from Latino voters in the U.S. I wrote about which candidate would better from the perspective of Latin American countries. Who would be better for Latin America?
By now, both candidates have distinct records. Trump focused on stopping migrants from Central America and, with an eye on Florida's Latino vote, he made high profile moves against the regimes of Cuba and Venezuela. Other than that, he has mostly ignored the region. Biden, by contrast, has visited Latin America multiple times, has in-depth experience on the issues afflicting the region, which are only growing more difficult in the wake of the pandemic. I wrote,
"Biden's deep experience in the region, his commitment to finding solutions jointly—rather than ignoring or bullying America's neighbors in order to gain an advantage—and his understanding of the cost that Latin America pays because of corruption all strongly suggest that he would help build hemispheric and bilateral ties that would benefit both the United States and Latin American nations."
Check out the article.
---
U.K.'s Labor Tries to Exorcise Its Antisemitism Demons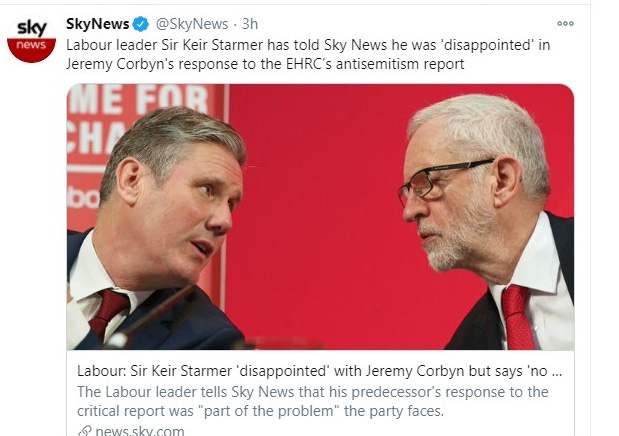 When Jeremy Corbyn served as leader of Britain's Labor Party, he and the party were repeatedly accused by its Jewish members of displaying an ugly streak of antisemitism. Laborites, including elected members of Parliament, resigned in protest as he largely dismissed their claims.
Labor was clobbered at the polls late last year, and party members removed him from the leadership post this April. The new Opposition Leader, Keir Starmer, vowed to forcefully tackle antisemitism within Labor.
This week, Starmer showed how serious he is about that endeavor. Corbyn remained recalcitrant, and the party's internal divisions went on sharp display, to the delight of their political rivals.
Labor's report by the Equality and Human Rights Commission identified multiple "unlawful acts of harassment and discrimination," saying,
We found evidence of a significant number of complaints relating to antisemitism that were not investigated at all.
We found evidence of political interference in the handling of antisemitism complaints throughout the period of the investigation.
Starmer's response:
"I found this report hard to read and it is a day of shame for the Labour Party… On behalf of the Labour Party, I am truly sorry for all the pain and grief that has been caused."
Corbyn, for his part, said the report, "overstated" the problem. Hearing his refusal to acknowledge the scale of what is a profound moral problem for a party committed to rejecting discrimination of any form, the party suspended its former leader from membership. Starmer is now facing the wrath of the Corbyn left. The party is divided, which is great news for Conservative PM Boris Johnson, fumbling with the pandemic.
---
News Snippets:
Chilean voters decide the country will have a new constitution.

European countries impose stiff new restrictions as coronavirus cases soar.
---
That's it for this week. We'll meet again next week to see where things stand.
Send me your thoughts, ideas, criticism and praise to FridaInsight@gmail.com
If you like INSIGHT, send it to your friends and your foes (maybe you'll reconcile). Tell them all to sign up.
Stay healthy; stay informed; stay engaged.
Frida