Fear Factor: The Awkward Reason Trump is Failing to Connect with Voters
What Trump is missing this election; a beheading in Paris; Nigeria's anti-police violence uprising, Latin America's Left and Bolivia's elections, and more.
An Awkward Reason Why Trump Just Can't Connect
As Nov. 3 approaches, Donald Trump's 2016 playbook is just not working. The tactics are getting uglier and, in a year like 2020, anything is possible. But the bottom line is that a key element of the strategy that drove Trump's campaign to victory in 2016 is failing. Has Trump lost his mojo? He's using against Joe Biden everything he tried against Hillary Clinton. This time, as he throws dirt at his rival, it's not sticking. Why? There are many reasons, including one nobody's talking about: the fear factor —and, yes, ISIS.
---
HIGHLIGHTS IN THIS ISSUE
Trump, ISIS, and the Fear Factor

A beheading in France and What Comes Next

Nigeria's Uprising Against Police Brutality

Bolivia's Vote and What it Means for Latin America

News Snippets: Lebanon, Sudan, Israel, Russia, Pope, LGBT
---
Trump's Troubles: How the Fear Factor Turned Against Trump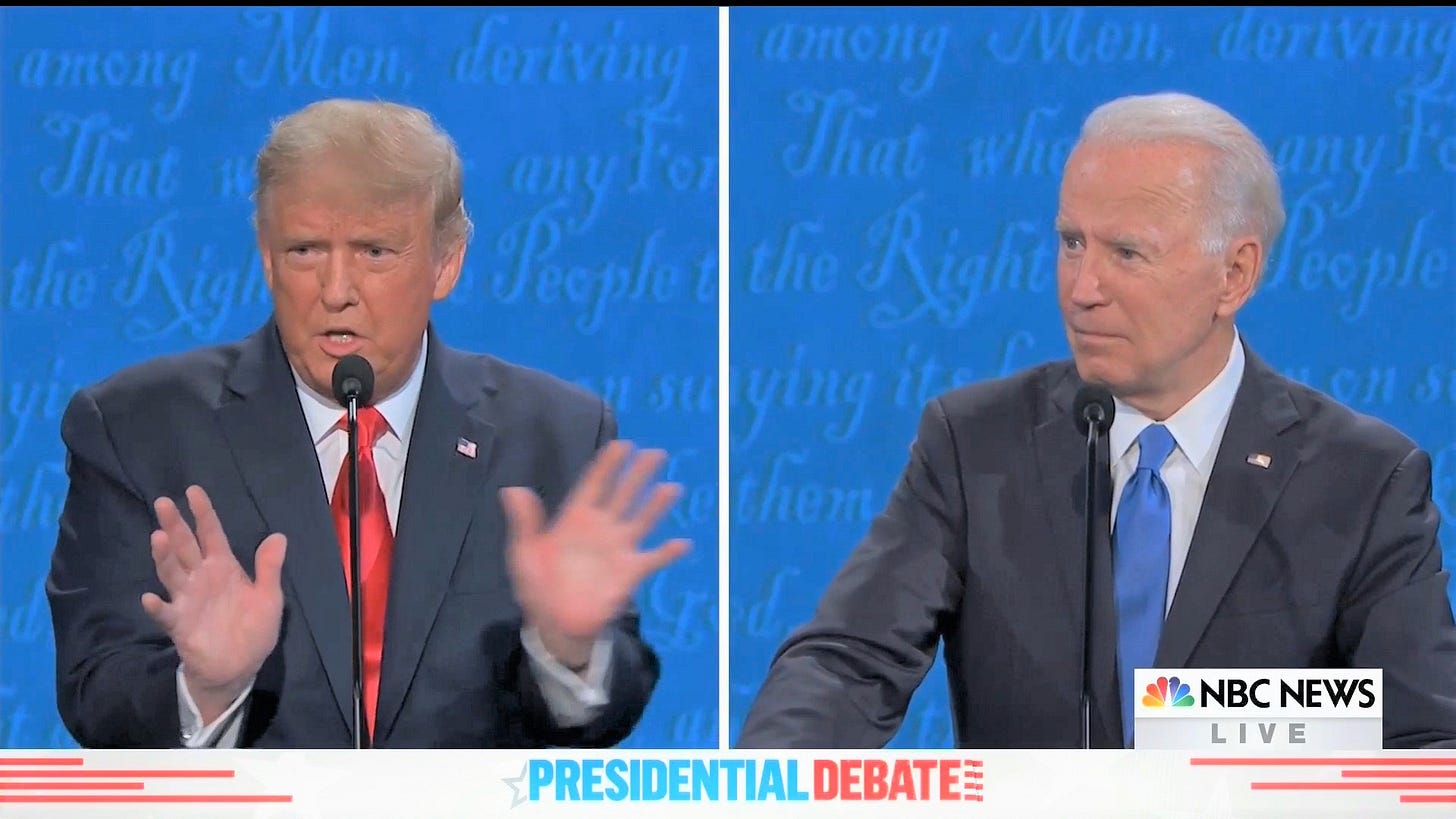 There's no shortage of explanations for why Trump is doing badly in the polls. The principal reason is that Americans have seen him in action and most have had enough. His corrosive rhetoric, handling of the Covid-19 pandemic, the recession, the family separation policies, are all important factors.
There's one other major reason that we don't hear about: Trump's fearmongering efforts, so fruitful in 2016, are falling flat partly because the world has changed so much since the last election. ISIS has left the headlines. Fear, Trump's go-to weapon in his political arsenal, no longer works in his favor.

Remember what dominated the news back then: ISIS terrorists were beheading Americans, on camera, posting the gruesome videos on Facebook. They were slaughtering civilians in Syria, Iraq and across the world. Where they took territory, they imposed horrific rules, crushing freedoms; they executed those who failed to abide by their draconian laws and left them hanging from city lampposts. Civilians fled by the millions.
The victims of Syria's brutal civil war escaped any way they could, often making their way to the West. This was an ideal environment for a fear-mongering demagogue.
In Europe, countries were struggling to decide what to do with the endless waves of mostly Muslim refugees. Germany opened its doors to more than a million people. Hungary unspooled barbed wire to keep them out.
Trump was able to conflate all these images into one neat anxiety-provoking package, making a muscular policy against migrants and refugees one of the cores of his campaign. ISIS had engendered fear of Muslim refugees, even though Muslims were their primary victims. Trump, vowing to do better than Obama in fighting Islamist extremists such as ISIS, developed a symbiotic relationship with the group. He weaponized fear of Muslims, fear of refugees and fear of terrorism in his call to shut down immigration from Muslim countries "until we figure out what's going on," and pledged to build a border wall that he absurdly claimed Mexico would pay for.
Demonizing Mexicans who wanted to enter the United States, as "rapists and murderers" was much easier when xenophobia was already inflamed by events in Syria, Europe, Africa and elsewhere.
Demagogues, authoritarians, thrive on fear, especially fear of "the other." Political scientists and psychologists have explained it. The psychologist and philosopher Erich Fromm described how fear and anxiety makes people yearn for security, easing the rise of authoritarian figures who promising an iron fist and a return to order, to how things used to be.
In 2015 and 2016, every gruesome ISIS attack, every video of an amorphous mass of haggard, desperate refugees a seemingly-unstoppable wave of humanity, helped fuel Trump's message, making it incandescent within a segment of the population. He claimed Hillary would bring 650,000 refugees, ten times more than she proposed.
Now ISIS, while not gone, is greatly diminished, off the headlines. Would Trump be doing better if ISIS were still decapitating Americans? Probably not. Now he's responsible; it would look like his failure.
Trump is still trying to scare voters. We saw it in the last debate. (My take)
He had already tried to frighten Americans about Antifa. He claims Biden will destroy the economy, open borders, fill the suburbs with scary people.  
I wrote about it for CNN, offering three possible explanations for his disjointed campaign strategy. One part is that he hopes racist fears will do the job:
Typical is this riff from Carson City, Nevada, on Sunday. "I think the women from the suburbs are looking for a couple of things," Trump said. "One of them is safety. One of them is good, strong security. And one of them is they don't want to have low-income housing built next to their house. And you know who makes up 30% of your suburbs? Minorities. African Americans, Hispanic Americans, Asian Americans, minorities. Okay?"
His attacks are failing to connect, so Trump has veered into a disjointed campaign strategy that baffles seasoned political observers, attacking the popular Dr. Anthony Fauci, winking at far-right extremists, and going after a governor after she was the target of a kidnapping plot.
Was 2016 scarier than 2020? This year, instead of looming threats, our fears are reality. Most Americans say Trump failed to protect us from the devastating pandemic. Four years ago, it was gruesome, ominous. Now difficult times are already here. For many, nothing is scarier than continuing on this path. Many Americans are not just scared of what Trump might do in a second term, they find nothing more frightening than the dysfunction, the ugliness, the extremism that has erupted inside the United States since Trump became president.
---
A Teacher Murdered in France, the Dilemmas that Follow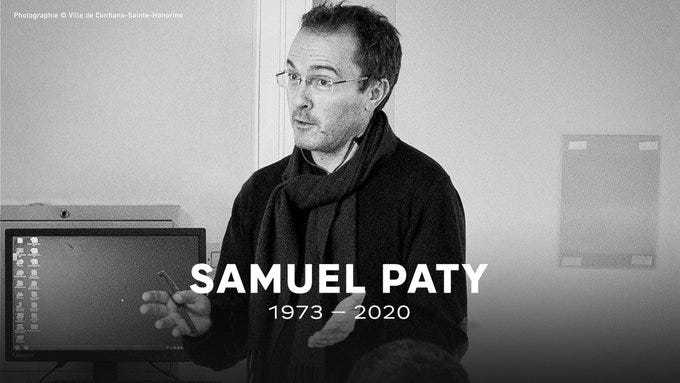 Those who knew him say Samuel Paty was a committed, beloved teacher at the middle school where he worked in the suburbs of Paris. On October 16, a Chechen-born Islamist radical assassinated him, decapitating him, and sending shockwaves across France. Police shot and killed the attacker, and an investigation, according to French President Emmanuel Macron, found that a French group called the "Sheikh Yassine Association," was "directly involved." The group was named after the founder of Hamas, the Palestinian organization that controls Gaza.
The killer was angry because, during a class about freedom of expression, Paty showed some of the Charlie Hebdo cartoons of the Prophet Muhammed, which had prompted one of France's most shocking massacres. He had told Muslim students to avert their eyes or step out briefly before showing them. Paty started receiving threats on social media soon after the class.
The French, who hold a revered place for teachers, were outraged. The hashtag #JeSuisSamuel (I am Samuel) trended on social media. More than million joined a protest for freedom of expression.
Macron spoke forcefully and vowed to take on the challenge. A crackdown on a number of mosques and Muslim organization sparked fears that innocent French Muslims would be unfairly targeted.  
The killing will renew questions about where to draw the line between freedom of expression and hate speech; how to eradicate extremism without stoking prejudice; and how quickly authorities should intervene when social media flashes danger signs.
---
In Nigeria, a Showdown Over Police Brutality
When the protests against police brutality, which have gone global, reached Nigeria, the outcome was tragic — and infuriating.
On October 7, demonstrators in Lagos demanded an end to a notorious police unit called SARS, the Special Anti-Robbery Squad. The police responded by shooting protesters. As we have seen in so many other places, protests only grew larger after the crackdown, but the heavy-handed response continued. President Muhammadu Buhari says 69 people have been killed.
Protesters' demands to dissolve the unit have now been met, but the movement, led by women, is far from finished. Now Nigerians are demanding a better, more inclusive democracy.
To understand the depths of anger at the SARS cops, read this powerful article from novelist Chimamanda Adichie.
---
Bolivians Reelect the Left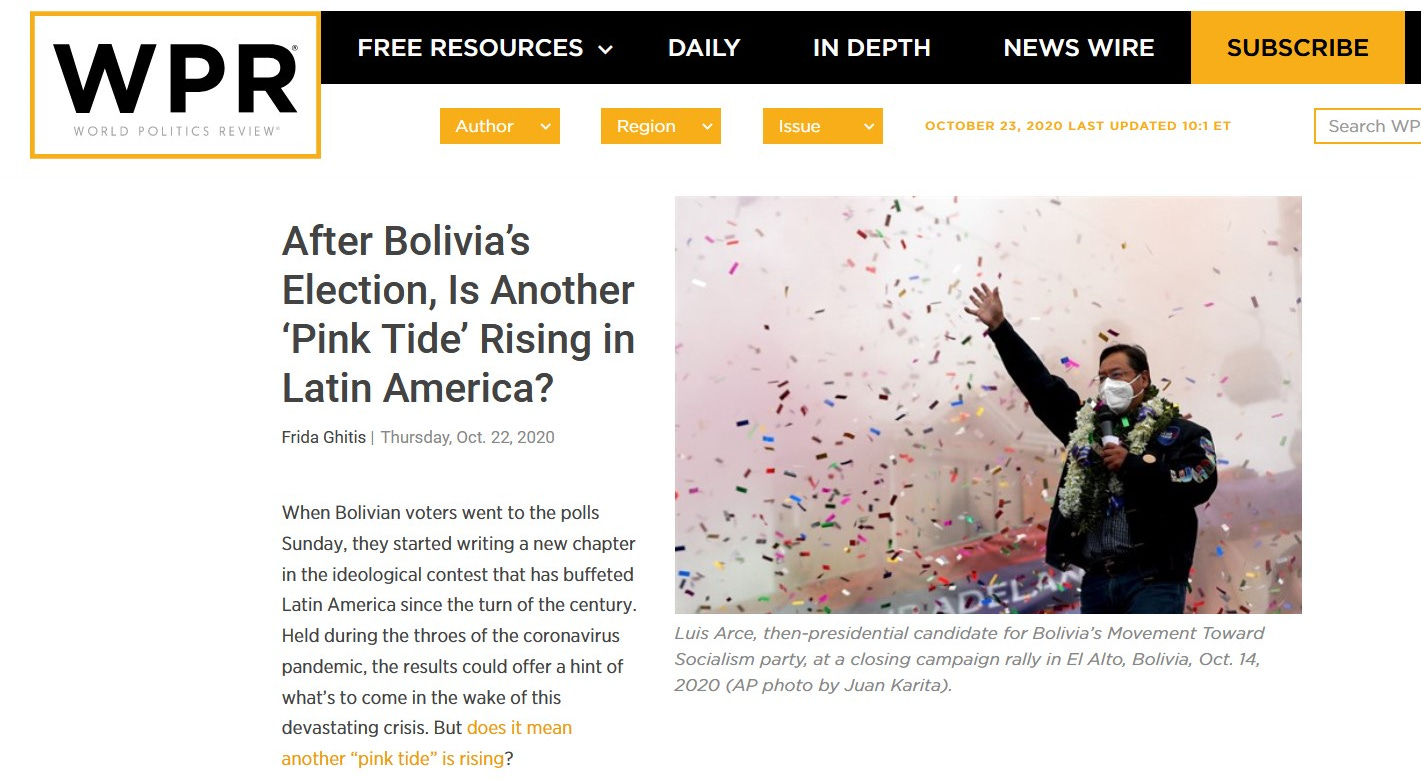 The last time Bolivians voted, the election was already controversial before it started. Evo Morales, the socialist leader, was running for this fourth consecutive term as president even after he asked Bolivians in a referendum if he should be allowed to run again, and they said no. Election Day ended in chaos, and Morales was pushed into exile.
Bolivians have just voted again and elected a man close to Morales, Luis Arce, as their next president.
I wrote about the victory of Bolivian socialists and what it might mean for the Latin America's left in my World Politics Review column.
By the way, if you're interested in Latin America, listen to this podcast, where I tell WPR's editor-in-chief Judah Grunstein that I believe South Americans are ready for pragmatic results, instead of ideological battles.
---
Notable News -Snippets
That's it for now.
Again, thanks for all the kind words, and welcome to all of you receiving INSIGHT for the first time.
Please send suggestions, comments, praise and criticism to FridaInsight@gmail.com
If you like INSIGHT, send it to your friends and your foes. Tell them to sign up.
See you next time.
Stay healthy; stay informed; stay engaged.
Frida